Fan Champion Versions of enemies
Edit
How to add an entryEdit
TO EDIT THE TABLES IN VISUAL MODE, YOU NEED TO BE IN THE EDIT WHOLE PAGE MODE. (Yellow button next to the page name)
If you want to add a new entry for an already existing boss, simply go to that table and edit it in, otherwise go into sourcemode and write this code: File:Code1.png
BOSSNAME: Self-explanatory.
TEXT:You can writen the picture code and description in here now, or use the visual mode to do that later.

After that, you can switch back to visual mode again and edit the text of the newly created table.

Please keep the format of your entry as shown here:

Color - Description

For the correct picture placement, write the following code into sourcemode:
FILENAME: The name of the picture you want to use. Please not that the file extension is also needed.
|left: Alight the picture to the left of the page
|???px: Rezizes to picture to the wanted pixel size. Simply replace ??? by the number you want to use. (80-150 are common values used here, but you might want to experiemtn with the exact numbers)
Daddy Long Legs/Triachnid
Edit
Daddy Long Legs only:
Red - He shoots 6 slower shoots when stomps his head and spawns Leapers but has 45% less health
White - When he stomps his Head he spawns a random monster, Monsters that he can spawn: 1 Hive,2 Trites,2 Hoppers,1 Mr.Maw(Rare spawn).
Triachnid only:
Black - He has 50% more health, spawns Psychic Maws in the corners.
Dark Red - The white creep is replaced by red creep. When he stomps his head he shoots 16 shots instead of 8. He stomps his head less often.
Pitch Black - The white creep is replaced by black creep. He spawns 2 small gishes instead of spawning 1 trite. He spawns stuff more often.
|- | White - Does half damage, but has 50% more HP and does his brimstone attack more often.
Red - Spawns Teratoma, 25% more hp and his projectiles are slow, very rare.
Gold - Instead of firing lasers from his mouth or hands, Greed Heads will spawn *from his hands*. *or Greed himself from his mouth*
Green- Instead of one Fallen, it's two, he shoots 2 blood bullets from the walls every 10 sec and has less speed
Monstro II
Edit
|- | Pink - Bigger but takes longer to jump, spawns Spit instead of Suckers.
Pitch Black - Nothing special, it's just you can't see his face, so it's harder to see what his attacks are going to be.
Green - Instead of firing the brimstone type laser, will fire a barrage of shots similar to Monstro 1, but all shots will be homing, and after landing from 1st large jump, the shots will be a large 12 way circle similar to peep. after landing from the 2nd large jump, 2 Mullibooms will spawn.
Black - He shoots his Brimstone attack in a + direction, spawns 6 Boom Flies when he jumps, and shoots a poison bomb that leaves green creep behind when he does a small jump.
Red and Green - You fight 2 smaller Monstro 2s. Red Monstro 2 spawns 2 Suckers and the green spawns 2 Spit. Each one has 50% less hp than the regular Monstro 2.
Brown - He does not fire any lasers. He does big jumps more often.
White - Instead of spawning 4 suckers he spawns 2 spiders. When he is firing a lazer, he aslo spawns 1 trite. 10% less hp.|}
|- |

Green - Shoots Brimstone lasers from his split area rather than spawning red Boom Flies. It's more common than the spawning of the red Boom Flies.

Blue - Both halves are slightly larger, have 50% more HP, and do the + shot attacks much more often, but cannot spawn anything.

Black/White - One half of Lokii is White, while the other half is Black. The White half shots homing tears and spawns Holy Leeches. The Black half spawns Unholy Leeches and shoots poison bombs. The White half is faster, while the Black half has 50% more HP.
Purple - Has less hp than usual, *About 10% less hp on each half* And can only be damaged on the split side. Also teleports around the room much more often.
Color Changing - One half of Lokii is the one that you can damage. The other half, the one that isn't color-changing, is immune to damage. The half that is indestructible changes every 3-5 seconds. Both sides attack and often spawn W. Blobs.
The Bloat
Edit
|- |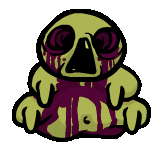 Yellow - When in the air, it drops a trail of red creep, similar to the yellow version of Peep. When it lands, it shoots a cluster of blood bullets similar to Monstro's.
Purple- Instead of shooting lasers he shoots 12 homing bullets. Each time he lands from a big jump he spawns 2 red maws. He has 40 % less hp than normal bloat.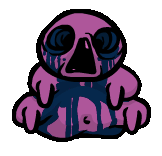 Pink - There are two little Bloats both with 50% less HP and there are no eyes in the room.
Red- This Bloat is slightly larger than normal, has 25% more HP and has 3 eyes instead of 2. Cannot spawn red creep upon landing from a big jump.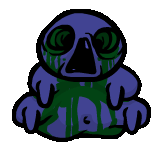 Blue - Upon firing lasers, the frontways lasers and the sideways lasers fire at the same time. After landing from a large jump, 6 homing shots are fired around him. When doing small jumps, a Red Boom Fly will spawn. has roughly 70% HP of a regular Bloat.
Dark - Similar to a normal Bloat, but the floating eyes fire blood shots at you if they get close enough. Has 5% less HP.
Brown - Can excrete different colours of creep which either slow down *black*, damage *red* or both *green*. Also, instead of firing lasers from eyes, it fires a monstro wave of bloodshots in the directions where the laser would usually fire. Can not do small jumps, but has 15% more HP.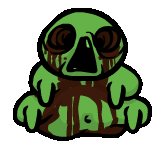 Green- When he jumps he spawns green creep, When doing small jumps he spawns 2 more eyes and the others jumps not gonna spawn, He has double the health unlike the non-champion version of The Bloat, but is so slow.
Pure White - There is a small, immobile White Bloat in the center of the room. It does NOT attack, but there are 10 eyes flying around the room. One of these bleed red creep on the ground.
The Wretched
Edit
|- | Red - Jumps a lot more oftenly, spawns red creep (instead of white), and shoots 4 large shots (in either cardinal or diagonal directions), only spawns Trites. Has roughly 65% more HP compared to her regular version.
Green - Jumps farther, but slower and doesn't spawn creep. Instead of spawning enemies, shoots poison bombs, similar to Pestilence or Sloth. (she can't damage herself that way) Has 50% more HP than regular version.
Dark - Jumps a lot more rarely, but each time she lands, 2 Trites spawn. Can spawn black creep (same as white creep, but more effective). Doesn't spawn enemies (apart from Trites when landing after a jump). This version of The Wretched has double the HP of the regular version.
Blue- Jumps much more often, leaving white creep after each jump. The jumps are also faster. When The Wretched is blue, she is also a lot smaller and has roughly 50% more HP of the regular version.
Mom's Heart / It Lives
Edit
|- |
Green - Will have slightly buffed HP and will spawn newer enemies *those in WoTL*

Blue - Will spawn enemies and bosses from The Wrath of the Lamb only.However the eyes will still appear in the beginning of the fight.
Dark - Will spawn higher tier bosses only instead of lower tier bosses and normal enemies. has slightly less HP than usual. Bosses spawned would be: Peep, Gemini, Loki and Monstro II for 1st phase, and for second phase, The Wretched, The Bloat, Fistula and The Carrion Queen would be spawned. In final phase *bomb phase* Lower Tier bosses would be spawned, such as Larry Jr or Gurdy Jr.
White- Will spawn champion bosses, the bosses will be : Teratomas/The Bloat/Scolex and The Hollow, has good health, spawn Bloodshot Eye instead Eye, and final tier he shoots lower acid and spawn Pins.
Pure Black - There are three tiny hearts spread out in the room. They cannot spawn bosses, only enemies, like Mom's Heart. Two of the hearts have 50% less health, while the other one has normal health.
|- |
Dark - Does a cross bloodbeam and summons kamikaze leeches.

Yellow - When fought as a boss, 2 Pokies will appear instead of 1. This is the main threat here: Loki himself will not attack, and will only teleport around the room, occasionally spawning a boom fly. Has roughly 40% more hp than a regular Loki.
Deep Red - This version of Loki will not have a Poky to assist, but he will have double his usual HP, all shots he fires will be large *about the size of the shots in Monstro II's 8 way shot* and he will spawn 2 boom flies at a time instead of 1. He cannot teleport around the room.
White - when he does his 8 way blood shot, he will spawn 2 spiders. The boom flies he spawns will explode on Loki's death. His 4-way blood shot now shoots diagonally, then horizontally, then does a brimstone laser in the direction of the player. Has 40% less HP than usual, and WILL drop the Polaroid on death.
Mask of Infamy
Edit
Purple - When the heart dies he spawns 1 Mask of Evil when hit you and he is faster, do more damage but have 25% less life.
Green - The mask can be shot from the front after the heart has been destroyed, but the mask moves twice as fast as usual, and has 60% more HP.Black - Occasionally fires a brimstone laser from the back of the mask in phase 2. Phase 2 has 25% less health.
Gold - Both parts are vulnerable from all sides, though the mask can fire a blood beam from its mouth like that of a Vis and the heart can fire an eight-way shotgun attack.
Red - Little Gemini will keep shooting you after big Gemini is dead
Orange - Gemini walks 20% slower but can shoot at you
Green - The Gemini run 45% faster but have 50% less health
Purple - The little one Shoots Homing bullets
Pink - The little one is chasing the player at the beginning of the Fight
Dark - The big one constantly shoots in a 12 way fashion, similar to Peep, and the little one will shoot in a 3 way shot while chasing. same amount of hp, but big gemini cant speed up.
Clear/Tansparent - The big one can run through rocks like a ghost, so it can still chase you effectively if you are flying. has roughly 85% health.
Dark Green - The little one shoots vomit bombs. The big and the little one can't get damaged by the little one's bombs.
Black - Jump 50% less frequenly but do more damage
Pink - Jumps more frequently.
Red - Shoots 4 shots in 4 directions on Death.
Purple - explodes on death
Black - shoots 8 shots in all directs on death
Orange - Shoots a monstro like shot on death
Pink - Shoots homing shots in a + pattern when killed
Violet - Fires his Blood beam in a + pattern and shoots 2 vomit bombs in a similar pattern to Super Sloth
Orange/Yellow - Instead of firing his blood beam he shoots three homing shoots.Can't shoot his 3 blood projektiles instead of that he spawns Vis.
Dark Red - He shoots his Laser in a /|\ Pattern. He can't shoot his Blood bullets instead
he spawns 2 Gushers.
White - Greed moves faster and attacks more frequently. Fires a Brimstone laser instead of blood bullets. Can't summon monsters.
Golden - Moves slower, 50% more health, spawns Hangers, Greed Heads, and very rarely (0.1%) spawns another Golden Greed. When killed, always either drops the Dollar Bill or Three Dollar Bill.
Gold - Twice as fast as regular Greed and drops a higher amount of coins or rarely a Quarter. Summons 2 Chargers or Spities instead of tites or hoppers.
Light green - Slower. Shoots a homing bullet every three seconds.
Black/Grey - High health. Acts as a turret in the middle of the room. Spawns Maggots and Chargers.
Dark Red - Does not Shoot Vomit Bombs Instead he shoots a Laser. He does not spawn
Chargers instead he Spawns Leapers. He does not spawn Leapers so often.
White - Fires a Brimstone laser in a X pattern, replacing his default attack. Spawns Boom Flies instead of Troll Bombs .
Black - Each of his segments is able to shoot a homing bullet.
Red - Identical to the default, but he drops a Troll Bomb when he splits.
Green - like regular Envy except the smallest heads have the effects of Boom Flies or Red Boom Flies, Meaning the smallest heads will either explode or shot 6 bullets out upon being destroyed.
Orange - he shoots 3 bombs, and have 50% more life.
Red - when shoot a bomb he shoot a radius of blood, explode when die
Pitch Black - He Randomly spawns Black Creep that makes the player slower.
Little Gishes spawn randomly around Wrath. He is 20% slower and has 15% Lower Health.
Brown - He is Faster and Attacks have more Force (Lose More Coins).
Black - Spawns Coins instead of Monsters. The Coins He spawns are Harmful, Therefore hurting you If you pick them up.
Yellow - Spawns Hangers and he steals your Coins, causing them to be lost Forever.
Red - Spawns modified Greeds that have more Force, but have less HP and can't spawn anything. there can only be 2 of these out at one time, and for every Greed that is killed, Super Greed will lose roughly 1/5 of his HP. There is almost no point to Bombing Super Greed when he is this colour.
Super GluttonyEdit
Light Grey - Faster. Uses his Blood Beam More Frequently, It Both Goes Horrizontally and Vertically. His projectile Attack goes normally, only with the Spoon Bender Effect
Blood Red - Colossal and fires his Blood Beam in all 8 directions. He cannot move left right up and down, but instead rotates to the left and the right. He can spawn 2 Vis every now and then, also.
Super EnvyEdit
Brown - Every Segment May stop moving In Order To Shoot A Brimstone Beam.
Super LustEdit
Yellow - Has Less Speed in Favour for The Ability to Teleport
Blue - Has 30% less health In Favour For Higher Speed And Double Damage.
Super SlothEdit
Black - Spawns Keepers instead of Spiders, shoots 2 IDEPAC Bombs with such Creep That Reduces Your Speed A High Amount.
Super WrathEdit
Darker - Shoots 4 Super Troll bombs in an 'x' pattern in every corner of the room.
Lighter- Shoots a Super troll bomb and 3 troll bombs around (not do damage to him) is fast and 25% less health.
|- |

Purple- When he launches himself out of the ground, Pin will slightly home in on you. His green bomb attack is replaced with a barrage of homing bullets similar to Ultra Pride.

Blue- Even time Pin launches himself out of the ground a Monstro-style barrage of tears comes out with him. Pin shoots two green bombs instead of one.

White - When he launches himself out of the ground, he spawns white creep under him that slow you down, instead of firing 1 green bomb he spawns 3 spiders and firing 1 white bomb that spawn white creep that slow you down.
Yellow- When he launches himself out of the ground, he shoots 8 bullets in all directions. Faster. Instead of firing a vomit bomb he spawns 2 pooters.
The Duke of Flies
Edit

Pink - Spawns Spiders instead of flies. Every ten seconds he shoots one Homing Bullet.

Grey/Black - Very Slow. Does a line of Black Creep on his Way that slows down. Spawns spiders instead of Flies.
Dark Green - He does not spawn enemies, instead he shots bombs like pestilence. More hp and moves faster.
Red - He randomly spawns 2 Guts and has 20% More Health.
Gurdy Jr.
Edit
Green - Instead of spawning Fly's he will shoot two Vomit Bombs.
Black - Spawns Spiders instead of Flies.Charges slower but longer
The Hollow
Edit
Purple - If a Segment is destroyed six Homing Bullets will come out from it.
Red- If a Segment is destroyed a boil will come out from it. Moves Faster.
Pink - If a Segment is destroyed a key will come out from it. Has more hp and moves A LOT FASTER.
Blue - If a Segment is destroyed a homing troll bomb will come out from it. is immune to bombs, excluding those shot from dr. fetus, epic fetus, ipecac, and other bomb related attacks.
Silver - Can only take damage in the head segments. Moves Slower.
Dark Green - He shoots vomit bombs every 5 second. Green creep spawns under him. If a segment is destroyed a spit will come out of it. Slower. Less Hp.
Ligth Red - Moves faster. If a Segment is destroyed a red boom fly will come out of it. There is no rocks when figthing this champion.
Brown - Super fast!
White - If a segment is destroyed a sack will come out of it. White creep spawns under him.
Dark Red: If a segment is destroyed 66% chance that a half heart and 34% an enemy heart will come out of it. 100% more hp. 20% slower.
Dark Blue: Both worms are considerably longer. Segments create an explosion when destroyed, which can destroy other segments, but does not chain react. Is more likely to drop soul hearts.
|- |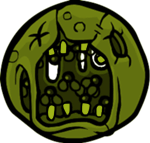 Green - Shoots two Vomit Bombs.Spawns Boil's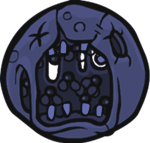 Blue- Spawns One Keeper and 2 Boil's. Moves Slower
The Carrion Queen
Edit
Green - Slower.Can shoot Vomit Bombs. She leaves green creep on her Route like Pestilence
Black - She is firing a Brimstone Beam in a + pattern from her Weakpoint.Chases you with 10% more Speed
Blue - She can't spawn red poop. She spawns buttlickers and brains. Bigger. Sometimes shots a homing bullet. 30% More Hp.
Brown - Can spawn every kind of fly. When she charges she spawns 1 mulligan.
Green - Her Eye shoots Vomit Bombs.Also she stomps two times with her Foot like Satan.Can't spawn Enemies
Purple- She can spawn every kind of Boil. Her Eye fires a Brimstone Beam.However she don't uses her Footstomp often.
Orange- When she stomps, a Fistula will spawn. *smallest size only* Her eye fires a wave of monstro blood shots when it appears. When her flesh appears, a krampus style wave of blood will be shot. If she trys to grab you, a brimstone beam will be fired.
|- |

Blue- He only chases the Player wit his low jump.Faster
Brown - Smaller.Can spawn 2 Enemies at once.Sometimes she will generate randomly Poop in the Room.
Green - Can only Spawn four Enemies at once. Shoots three Vomit Bombs.
Blue - Shoots bullets like monstro. Spawns spiders instead of flies.
White- Much smaller. Shoots much more often. She spawns 2 maws rarely. Sometimes the maws get replayed by red maws. She has less hp than normal Gurdy.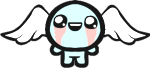 Light Blue - In the First Phase Troll Bombs randomly Spawn.At the second Phase he shoots eight Homing Bullets.Sometimes the get replaced by Vomit Bombs.In the third Phase the Light Beam's from the Top of the screen doesn't go away.
Purple- In the first phase, half of the time, the bullets are Homing. In the second phase, instead of Homing Bullets, he shoots Ipecac Bullets. In the third phase, Isaac spawns bosses, like C.H.A.D, Monstro 2, and Gurdy Jr's, instead of Angel Fetuses, but only one boss (Excluding Isaac) can be out at a time.
Black - Phase 1: Black Isaac fires black shots (Slowing Shots). Phase 2: The Homing bullets are also slowing, like past phase. Phase 3: Isaac's tears are slowing shots, like all the past phases. Instead of Angel Fetuses, he spawns Gishes, and rarely an I.Blob.
White - Phase 1: White isaac fires white shots (the shots move faster than normal). Phase 2: Homing bullets are also white and faster than normal, like past phase. Phase 3: Isaac's tear are white and fast, like all the past phases. Instead of Angel Fetuses, he spawns l.Blobs,
Pitch Black - Phase 1: Pitch black Isaac shoots slowing shots (Slowing Shots). Phase 2: The Homing bullets are replaced by the bombs Gish (the boss) shoots.  Phase 3: Isaac does not attack, no ligthning, he does not spawn angel fetuses, when the phase starts he spawn 2 Gishes (the boss). He spawns small Gishes if the 2 boss Gishes are dead. ]}
???
Blood Red - Can shoot brimstone in all 8 directions. Spawns bosses from The Womb.
Pitch Black - There are 4 ???s in all corners of the room. they can fire brimstones in 1 direction each, and they can spawn the seven deadly sins (RARELY the super versions)